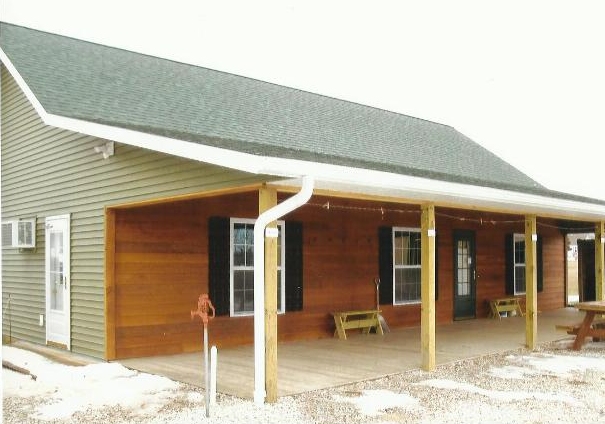 We have several off-site accommodation options. The main lodge (pictured) sleeps twelve while two other cabins sleep 4-10. Cabin space is limited and is available for $150-200 per hunter (each) for their entire hunt.
Our cabins are clean and heated and include a cook stove, microwave, and coffee pot. Each cabin also includes a small refrigerator, but extra coolers are highly recommended. There is also an outdoor grill!
Those staying in our cabins need to provide their own cooking utensils, food, coolers/ice to keep food cold, sleeping bags and pillows, and personal items (soap, shampoo, etc.). There is a small refrigerator in each cabin.
There is absolutely NO SMOKING in the cabins. Smoking is allowed in a designated area outside the cabins; however, cigarettes must be disposed of in the receptacles. Failure to abide by this rule will result in termination of your hunt and you will be asked to leave.
It is important to us that our land is kept clear of all trash. Littering will not be tolerated outside cabins or on hunting land. We ask that our hunters report any trash found as soon as possible.
For information about area motels and other lodging options within 15-35 minutes of our hunting areas click here.
Invalid Displayed Gallery
2023-2024 Dates
Whitetail
Archery: Sept. 15 - 20, Dec. 1 - Jan. 15
Rifle: November 11 - November 21
Pre-Rut/Rut Archery: October 20 - November 9
Muzzleloader: December 23 - January 2
Spring Turkey
April 17 - May 7
Contact Us
Northeast Missouri Hunting Company, LLC
15704 State Hwy Y
Greentop, MO 63546
Telephone: (660) 216-0439
Email: [email protected]